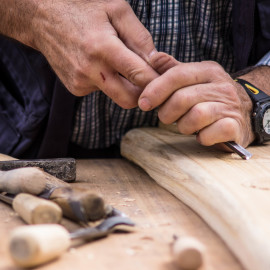 Across the centuries, throughout the entire region of Agordino, the broadleaf and conifer forests offered raw materials not only essential for keeping warm and for cooking food, but also for supporting the activities of countless woodworkers and carpenters. Over time, these acquired great skill for crafting tools and furniture for homes, sturdy trusses for roofs which at the time were covered in small wooden shingles, panelling for stoves and farm shelters for animals and hay.
Each village had its very own venetian sawmill, first operational using hydraulic power and later relying on electrical energy to reduce the logs into boards of different thickness. However, today, this activity has nearly disappeared. Notable figures in the art of sculpture characterise our valleys.
One such artist that acquired great fame during the 17th century is Fioravante Costa. Born in Taibon mid-century, Costa belonged to a family of wood and stone artists specialised in creating altars, thanks to their particular skills as carvers, sculptors and gold guilders. The artist's masterpiece is the main altar of the Parish Church of Canal San Bovo. However, his works can be found throughout the Basso Agordino region. His son Antonio continued the craft in the ancient Church of Santa Maria delle Grazie and in Cencenighe.
Giovanni Marchiori is another artist of great fame from the 18th century. Marchiori was born in Caviola, but lived in Venice for 48 years and died in Treviso at 82 years of age. A successor and imitator of Brustolon, he was a predecessor of Canova. Marchiori's works are found in many churches in the Venice and Trevisio regions, but also in other Italian cities and even in St. Petersburg, London and Berlin.
In the late 19th century, Amedeo Da Pos from Canale d'Agordo and Pietro Amedeo Lazzaris from Vallada left highly prized statues of saints and crucifixes, as did Valentino Riva from Alleghe a few decades later. On the other hand, Zanetti Andrich from Vallada ran his workshop in Venice and distinguished himself in the decoration of gondolas and other boats. In the last century, Augusto Murer and Dante Moro from Falcade offered a rich production of statues and bas-reliefs, reaching unapparelled artistic heights.
In the tranquillity offered by the forests of Molino in Falcade, visitors have the chance year-round to stop by the open air museum and the atelier of Augusto Murer, offering a rich collection of masterpieces that keep alive the memory of the sculptor, twenty-five years after his death.