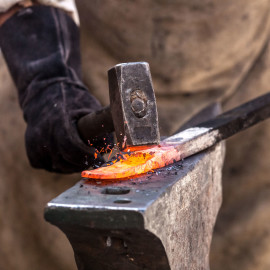 The Agordino region was once rich in mineral deposits, an important element for the economic life of the villages, for jobs and for a substantial immigration from as far as Germany.
The siderite extracted from the Fursil mines, in the Colle Saint Lucia region, was particularly valuable due to the high mineral content. These mines were so rich and productive that nine melting furnaces could burn simultaneously. Of these, eight belonged to the Venetians and only one, that in Andraz, to the bishop of Bressanone. The iron obtained was refereed to as "lamb's iron", because it was embossed with the Paschal Lamb, coat of arms of the prince bishops of Bressanone, the owners of the mine. The renowned sword factory in Alleghe also relied on "lamb's iron" produced by the furnaces in Caprile. In 1778, after almost six centuries, the Fursil mines were eventually closed, due to the lack of timber required to melt and cast the iron. Today, in the Alto Agordino region, in Sottoguda, the artisanal craft of wrought iron is still practiced.
In the Biois Valley, at the confluence of the Liera and Biois rivers, where the small town of Forno is located, foundry related activities were also carried out for almost four centuries (1350 – 1748), with metal mined from the Gares Valley. The production was smaller than that of the Fursil region, in terms of both quantity and quality, but equally important at the local level.
The most famous of all were the mines of the Imperina Valley, near Agordo, active until the middle of the last century. The beautiful buildings of the mining village, fallen into decay, are now being meticulously restored with the aim to provide environments for hosting a mining museum and reception and catering spaces. The recovery of this industrial archaeology area goes hand in hand wit the active tourism initiatives predominant in the entire valley.