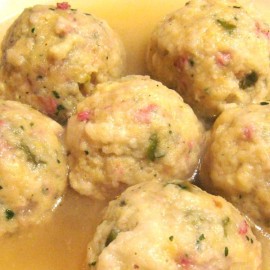 Traditional dishes from Alto Agordino, differ significantly from those characteristic of Medio and Basso Agordino (referring to high, medium and low elevations) as the difference in altitude allows, for example, to cultivate different types of grains: rye and barley are typical of the northernmost villages (Livinallongo, Colle and Selva) while corn and wheat prospered in the central and southern region.
For this very reason, there was a time in the northern region when bread was made just twice per year. In spring and autumn the abundance of water allowed the mills to produce, based on hydraulic force, fragrant rye and barley flour, which was mixed with a small amount of wheat flour (referred to as "machine flour" as it was imported) and flavoured with dill seeds with an anise-like taste. Each family prepared its own quantity, which was stored in a dry place. The loaves were known as "chizzuole" in Colle and "pinze" in Pieve, while in the rest of the Agordino region they are still referred to as "pucce", in order to distinguish them from the wheat bread that has always characterised this area. In these villages, in the morning bread was often replaced by polenta from the day before or corn crusts loosened from the pot and soaked in milk. During the afternoon and in the evening polenta was the main protagonist, served with different types of typical sauces or stews ("tocà"): "tocà da pùina" (ricotta), "tocà da boia" and only rarely polenta and "tocio" (with meat stew), a dish reserved for big celebrations or wedding banquets.
"Canederli" or "balote" (dumplings) were prepared everywhere in the region, but in the Alto Agordino several types were available: with "lardo" (type of cured meat made with fatback), with "zigher" (goat cheese mixed with chives), with "figà" (liver, rarely available), and with "sanc" (pig's blood, when the animal was slaughtered).
"Nochec" were poor dumplings prepared with raw grated potato and flavoured with a lot of garlic, typical of the north, while everywhere else potato gnocchi were common: in the northern areas topped with cheese or poppy seeds and melted butter, while in the central and southern region, they were more often served with smoked ricotta. "Tircle" was a dish typical of the northern region, a type of large ravioli stuffed with sauerkraut or boiled greens and herbs (spinach or "grisoi" i.e. silene vulgaris) and fried.
"Casunziei" was another dish reserved for big celebrations, prepared in the various municipalities on several occasions: in Colle for the Epiphany, in Vallada for St. Simon (on October 28, the feast of the patron Saint) and in San Tomaso for the All Saints celebration. In the central and southern villages, where pumpkin grew in symbiosis with corn, this was the typical stuffing used in the large ravioli, while in the north greens and herbs (beetroot and kale, fried with plenty of onion, salt, pepper and cinnamon) were used, flavoured with poppy seeds mixed with a small amount of sugar and melted butter. A particularly substantial dish was the slow cooked barley soup, enriched with pork bone or "cotechino" sausage. The typical bean soup was also quite hearty. Other dishes included the "milk and rice soup" served with small flour gnocchi ("papazoi") and slow cooked corn and wheat flour polenta, made with milk and topped with smoked ricotta and melted butter ("dufa").
In terms of sweets and deserts, these were mainly fried. If "crostoli" (fried pastry) available throughout the region under different names, "grafogn", similar to "krapfen" or donuts and stuffed with jam, were typical of the northern villages. On the other hand, in the Medio Agordino region, "carfogn" were customary especially at weddings, a type of fried ravioli pasta filled with crushed poppy seeds, sugar, a small amount of milk and served with a glass of grappa. In San Tomaso, on the occasion of the celebration of the first Sunday in September you could, and still can enjoy and share with friends the popular "fortaie" (similar to funnel cake). To delight children, every now and then moms prepared "macarogn frit" (fried macaroni or in the morning the delicious "smorm" (sweet apple frittata). And those who made their way to Colle for the St. Lucia celebrations on December 13, enjoyed the delicious seasoned sweets known as "diaolin", not available in the Medio and Basso Agordino regions.